It's almost that time of year again when the whole world–well, the fun side of the world–dresses up in Halloween costumes and has a heap of fun on October 31st. Along with the people in costumes, a LOT of people including yours truly love to dress their chihuahuas up in cute Halloween chihuahua costumes for the special, spooky day of trick or treat! And to celebrate this year, the Chihuahua Shop has just released a Halloween line of chihuahua clothing for the little dogs out there! Check them out, below!
Your small dog can come with you to your Halloween party or help you out in treating the little kids who come by and pay your house a visit for some candy this Halloween. And when doing so, she'll be looking the part with one of these Halloween dog T-shirts on her back! Just make sure that if you and your chihuahua decide to "trick", there's no biting involved, please! 😉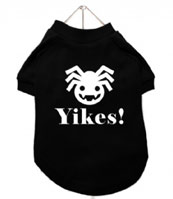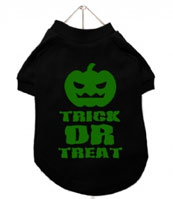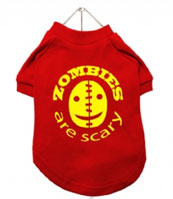 These shirts actually come in sizes for all dogs, from XXS all the way up to XL for the bigger breeds, but chihuahuas BY FAR look the cutest in them, I have to say!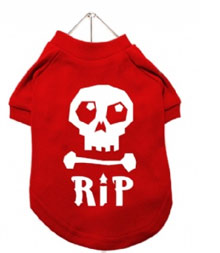 And each of these Halloween chihuahua shirt designs comes in either a T-shirt, a harness-lined T-shirt, a fleece-lined sweatshirt, or a chihuahua hoodie design, so you can choose whatever kind of chihuahua clothing that works best for your and your dog and where you live. I'm noticing that the majority of the Halloween chihuahua outfits we're shipping up to colder countries right now like Canada and the UK are the Halloween hoodies and sweatshirts, whereas the ones that are headed for warmer places like Mexico and Africa are still mostly the Halloween T-shirts, for people and their small dogs lucky enough to be living in a warm part of the planet right now! (I'm jealous of you, as of typing this 🙂 )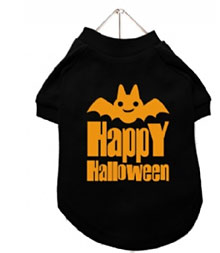 Anyway, you can find these adorable chihuahua clothes for Halloween at the Chihuahua Shop, so head over there, check them out, and have fun with them this 2011 Halloween! Speak soon, chihuahua fashion lovers! -Mikey Davis