So chihuahua clothes lovers, I have some exciting news! The Chihuahua Shop has got a new shipment of chihuahua jackets in stock of some new designs, and there are some super cool new little coats for your small dog in there!
The new jackets for chihuahuas are swanky, to say the least! The four I've linked to below for you are just a taste of what you'll find over at the Chihuahua Shop, now:
Some of these new chihuahua coats are thicker and are for cold weather in the winter months. Some of the other jackets for chihuahuas are a bit lighter and have fleece lining and are for cool weather. And the shop also brought in some new fleece-lined chihuahua raincoats that keep your pets warm and dry when the weather is crap outside but you still want to walk your little doggies!
Chihuahua jackets, for the uninitiated, are primarily for keeping your small dog warm. Especially if you're the proud owner of a short-haired little dog, like Namaste below, you surely are aware of just how easily your little pup can cool off, get cold, and start shivering in an instant. So the jackets for these little dogs serve the very practical purpose of keeping your pet warm when the weather is not very friendly outside!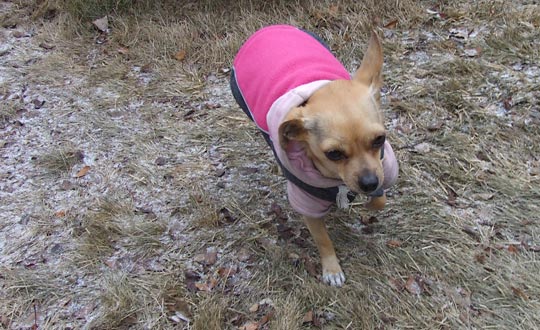 The other side of these little jackets for small dogs is that some of them are very stylish and you can have a lot of fun with the chihuahua fashion at work in some of these chihuahua jackets!
If you're a bit of a chihuahua fashionista, you'll love these new chihuahua jacket designs at the Chihuahua Shop because a lot of them have definitely been picked with the dog fashion lovers in mind!
You can find all of these new chihuahua jackets right there, at the Chihuahua Shop, along with a lot of new other clothes and accessories for chihuahuas and small dogs that we've been bringing in lately. I hope you love them–I think you will!–and be sure to check them out right now! Talk to you again soon. -Mikey