I grew up thinking chihuahua clothes were ridiculous and now here I am, blogging about them! It may seem a funny twist, but it's an understandable one for almost anyone who has gone from never owning little dogs before to suddenly taking care of a couple of little chihuahuas!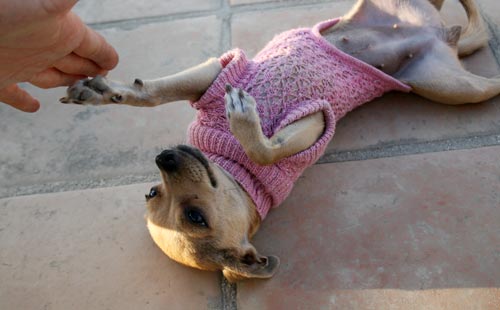 In the few years since my partner moved in with me and I unofficially adopted these new little companions, I've had the guilty pleasure of spoiling my little dogs rotten with all sorts of cute little outfits and I've been lucky in that today I get to combine two of my passions: fashion and dogs! And that's really why I've created this little site: to share a bit of my joy and observations about little dogs and their clothes with others who share that same love of chihuahuas and other little dogs and the cute clothes you can find for them!
By the way, I want to thank our chihuahua clothes auto insurance company supporters for helping out this chihuahua fashion blog with a link! Thank you for your chihuahua outfits help! Also, I'd like to thank Clear the Air – Stop Pet Odor for putting us in their list, too! And a special thanks to ILovedMyPet.com – Free online pet memorials for their link to us, as well! And of course, thank you to Pet-Services.org/ for helping us out, too! Thank you all for helping the chihuahua clothes blog 🙂
Also, be sure to check these guys out: Abbys Good Stuff – Free stuff for the whole family, fun stuff and big bargains on tons of products and services!
And super special thanks to these friends of chihuahuaclothes.co!

I hope you like the site, and I appreciate your comments if you have something constructive to say! xoxo -Michelle